ANNUAL GENERAL MEETING
---
---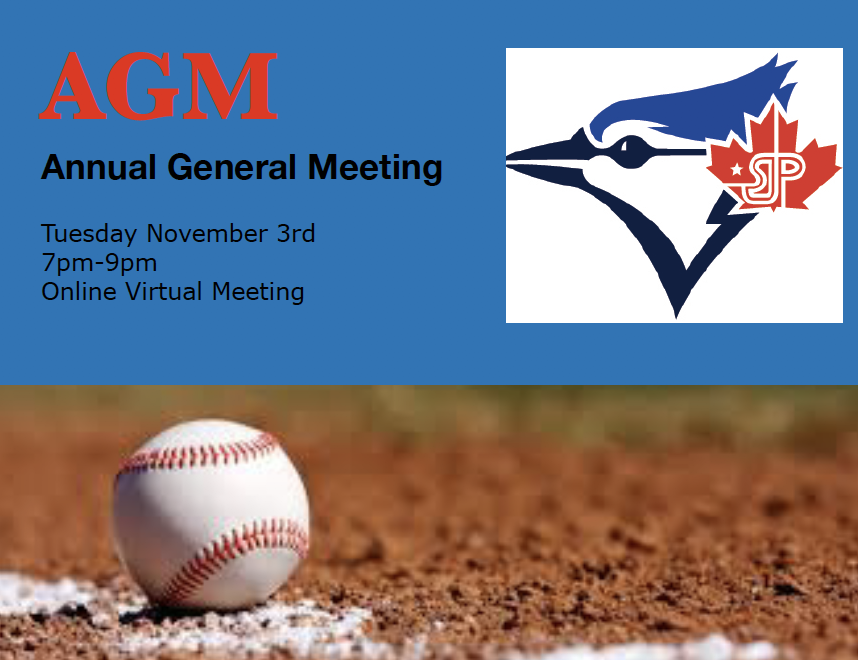 ---
Registration to attend the meeting is required. Click here to register now.
Dear SJP Families,
On behalf of the SJP Board of Directors, we hope you all enjoyed a safe and healthy Thanksgiving weekend.
This past weekend, SJP wrapped our Fall Ball season and with that, our outdoor baseball season has come to an end. We all know this wasn't a normal season, but fortunately, we were able to get out and play.
It is now time to start looking forward to the off-season and next season. First up, will be the SJP Annual General Meeting:

SJP Annual General Meeting
Tuesday, November 3, 7-9 p.m.
Online (Zoom or Google Meet)
The AGM is your opportunity to come out and learn more about how your association works, what happened over the last year, as well as ask questions and provide your feedback.
As you all know, this past year was a difficult one for many minor sporting associations. Fortunately, SJP was in a solid financial position to make it through a season in which vital registration revenues were significantly reduced.
However, the upcoming year is extremely important in terms of getting back to full operation and for the recruitment of new board members to shape the future of SJP. A number of board members, including myself, will not be continuing in our current roles and it is crucial that more families step in to run our organization.
If you have a young player that is part of SJP and are interested in helping run our organization, we urge you to step forward and volunteer.
The positions are listed below and we have job descriptions available. We are looking for people from both house and rep programs to help guide SJP over the next 2-3 years. If you are interested in learning more, please contact us or come out to the AGM on November 3.
Executive Positions open for election for the 2021 season:
President
Treasurer
Vice-president Administration
Director at Large - SEEBA Board Representative
Non-voting volunteer positions that are currently open
Apparel and Uniforms
Category Directors (House League)
Equipment Coordinator
Marketing Coordinator
Bookkeeper
All non-voting volunteer positions receive an honorarium.
Please let us know if you would like more information and we hope to see you on November 3.

Tim Schneider
President, SJP Baseball